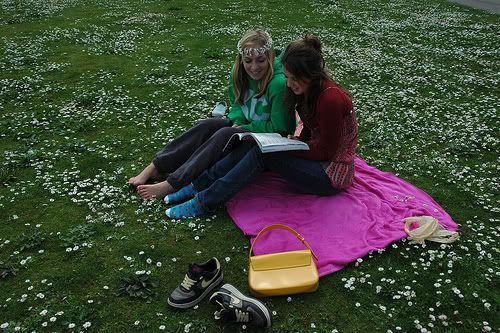 Do your best to present yourself to God as one approved, a workman who does not need to be ashamed and who correctly handles the word of truth. (2 Timothy 2:15 NIV)

According to the Great Google, among the Top 10 New Year's resolutions are getting fit, losing weight, getting out of debt, spending more time with family and friends, helping others, getting organized, and learning something new. Any of these on your list of priorities for 2011?

The cold, rainy January weather here in the Pacific Northwest keeps lots of us indoors in the winter months. But apparently we like it! We're well-known for our latte-drinking and love of fine books, and that suits my personality quite well. (At least until February!)

Did you know that Seattle is the most educated city in the United States? (Not bragging, just saying.) I think it's because there's nothing else to do when the color outside is flat gray. Exaggerating of course, and I can't explain that one, or the way liberal bent of the local population.

Let's leave those questions on the back-burner for now, and move on to an article that struck a chord with me some time ago. I'd love to hear your reactions in the comments. Please speak up!


Minding Your Mind
by Rosalie De Rosset
Walk into any Christian bookstore and case the shelves of books on women's issues, family living, and patterns of leadership. You will be hard put to find little or anything written on the role of the mind or the importance of the intellect in developing and maintaining a sturdy, healthy faith in and walk with God. Go to any women's retreat or women's leadership conference. Speakers and seminars appealing to women's hearts and souls and talking about spiritual disciplines abound. Discussion of women's roles as mothers, daughters, single women, keepers of the home, and as home-schoolers dominates the teaching hours. But is there much or any focus on the importance of the mind, of the crucial role that good reading and responsible study play in its development? Is there much mention of becoming an intellectual as well as a spiritual disciple of Christ?


Sadly, many women are probably intimidated by the word intellect (I always define the word carefully when I use it), even though what it means is the power to know as distinguished from the power to feel and to will. Yet, every one of those women would agree, at least in theory, that
we must know the word of God as well as feel it. Knowing involves the use of the intellect.

As an example, in the two or more decades I have been speaking at women's conferences and retreats, I have often chosen to address the importance of good reading and solid Bible study in the Christian life. Often, the leadership has been hesitant when they hear my choice of subject, wondering if perhaps something more practical, more mainstream (dare I say predictable) would be a better subject—something like how to have devotions or how to discern the will of God or how to pray more successfully and consistently.

Some women's ministries leaders have seen the significance of what I want to teach, but they have also understood that my seminars will have to be titled carefully to get numbers. In other words, I must artfully design a title that suggests something "more interesting," "more user-friendly" than thinking about the mind implies, something that, in a sense, cons the women into going to such a session. Somehow a consideration of Christian thinking seems so much less a priority and far less spiritual than subjects to do with Christian behaviors, even though the mind is what processes what we feel and will and can lead to a more thoughtful and deliberate Christian lifestyle.

In an articulate book called
When Life and Beliefs Collide
, Carolyn Custis James argues that all women are called to be theologians—in other words, to have knowledge of God. She notes that the Bible, not to mention church history, "records the stories of countless women whose theology led them to make significant contributions at home, in the community, and in the church" (p. 19).

When people—in this case, women—neglect the use of their minds, they may get caught up in idle activities, too many activities, silly reading and leisure habits which lead, finally, to a shallow understanding of what it means to live the Christian life. Their faith may also be too thin to sustain them in the hardships that invariably accompany the average existence.

Their Christian understanding, undeepened by knowledge, may become boring whether they admit it or not. As J.I. Packer says in his popular book
Knowing God
, "The world becomes a strange, mad, painful place, and life in it a disappointing and unpleasant business for those who do not know about God. Disregard the study of God, and you sentence yourself to stumble and blunder through life, blindfolded, as it were, with no sense of direction, and understanding of what surrounds you. This way you can waste your life, and lose your soul" (pp. 14-15).

This article by Rosalie De Rosset has been quoted from
Gifted For Leadership
, a women's group blog from ChristianityToday.com.
Photos: Girls at Greenlake in Seattle by Wonderlane; Nutmeg (
Flickr
)
Up Next—Video: The Beauty of Mathmatics


What think you? Do you agree with the author?